It all started with some sketches I did while I thinking about animals and humans and how we are all manifestations of one spirit, but because we took on different forms, we became misled into thinking that form was all there was to reality.
I started drawing simple, doodle-like sketches that could quickly illustrate  what I was seeing and feeling at the time.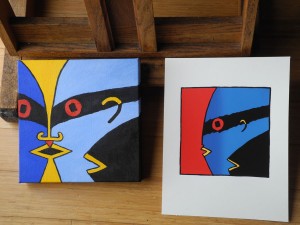 Left: Fish kiss, oil on canvass, 10″ x 10″. Right: Fish face, silk-screened print on paper, 10″ x 13″.
Out of the drawings, came a silkscreened print and from the print came a painting, in which I borrowed the Shang Dynasty practice of combining two profiles into a single frontal visage. I kept the images very simple and allowed myself only a few – mostly primary – colors. I liked working in two mediums simultaneously, as one inspires the other. This first pairing was followed by a series of paintings that I did as a group, sometimes working on two paintings at once. They started out as variations of the "Fish face" figure but I soon veered toward other forms.
These paintings, in turn, led to a series of silkscreen print designs. I will print them, probably early next spring – after I set up a work space.
From the beginning I had the idea in the back of my mind that these paintings may not be limited to wall hangings but may be used three dimensionally. Then, because I had to present them at a community art salon, I had to think of displaying them in a stage area. I decided that whatever supporting structure I used, they would have to be part of the artistic whole. And for now, it had to be cheap, because it's still a work-in-progress, an experiment.
I bought some fairly cheap, precut plywood disks – one 36″ diameter and two 24″ diam. I worked out a design on the computer and used outdoor house paint to paint it. In thinking of these structures I included two previous paintings in the whole presentation.